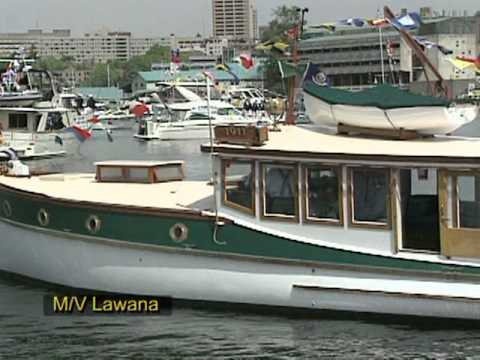 Boatbuilding emerged as one of the original industries in the Puget Sound region, with the Sound itself serving as the region's first highway and trade route.
The Mosquito Fleet, an armada of privately owned vessels that delivered cargo, passengers, mail and sustenance throughout the area, was the foundation of the region's early economy. The construction of commercial fishing and workboats was a signature Puget Sound industry in the early days, but soon, Northwesterners sought boats for recreation as well as toil.
The first yachts were based on workboat designs. Northwest designers specialized in rugged vessels designed for cruising the challenging waters extending from Seattle along the coast of British Columbia to Alaska. They were good boats that have stood the test of time. Take a ride on the Virginia V, the last steam-powered remnant of the mosquito fleet still making a living carrying passengers around the Puget Sound. Tour some of the original Northwest Classic yachts in this excerpt from John Sabella's documentary "Throwbacks to a Golden Age of Northwest Boats."
The complete program is available here.